---
Concrete pump market in Africa has enormously risen mainly due to the need for increased productivity, safety and quality at construction projects including the real estate and infrastructural projects. Furthermore, the increasing labour costs and growing emphasis on minimum construction time has also boost the demand and market share of concrete pumps in Africa. Concrete pumps are currently, one of the most efficient and cost-effective equipment for concrete placement and offer many benefits to the contractors.
Advantages of concrete pump
Over the more traditional method of concrete supply using a bucket and crane system, concrete pumps offer many benefits. The two main benefits are that concrete pumps can supply a far greater supply of concrete per hour, and the supply is constant.
Using a separate boom means it's also possible to place the concrete exactly where it is needed, meaning lower labour costs. Also by having a dedicated concrete pump, the crane which would have otherwise been lifting buckets of concrete can now be used for other jobs.
"In the day by day growing demand for fast work and construction of high rise buildings the work with the truck mounted concrete pumps can be done much faster and easier with the very less man power. Truck mounted concrete pump is much easier as compared to stationary pumps," said Chandresh Sodha of Enrich Equipment Ltd, the sole distributor of Putzmeister concrete pumps in Kenya.
Mobile pumps mean a far quicker setup time. All that needs to happen is the boom must be placed and the outriggers set up and the pump can be delivering concrete within an hour!
Saves manpower, energy and over-head costs: Concrete pump is one equipment that has the ability to transfer concrete to the exact location using minimal labour and energy. While in the ordinary concrete transfer process, a lot of labour and time is involved, through concrete pumps, works becomes much easier as less handling is required since concrete can be placed directly at the desired location. This can save a lot of manpower, energy and over-head costs. Nevertheless, with MECBO's new PULSAR system it allows an energy saving (and consumption) of 30 – 40% compared to other pumping systems. Grace to its highest execution technology, it needs no adjustments.
2. Increases speed: Usage of concrete pumps also increase the speed of work at any construction project. This is because with concrete pumps, concrete pouring becomes simpler and faster, resulting in no project delays. According to Adalberto Marcello, Sales training & documentation at CIFA S.p.A., Modern truck mounted pumps expand enormously the operations of laying concrete on the jobsite. Considering the average transporting capacity of manual methods with 0,5 cubic meters per hour per worker outputs can easily be achieved above 100 cubic meters per hour with truck pumps.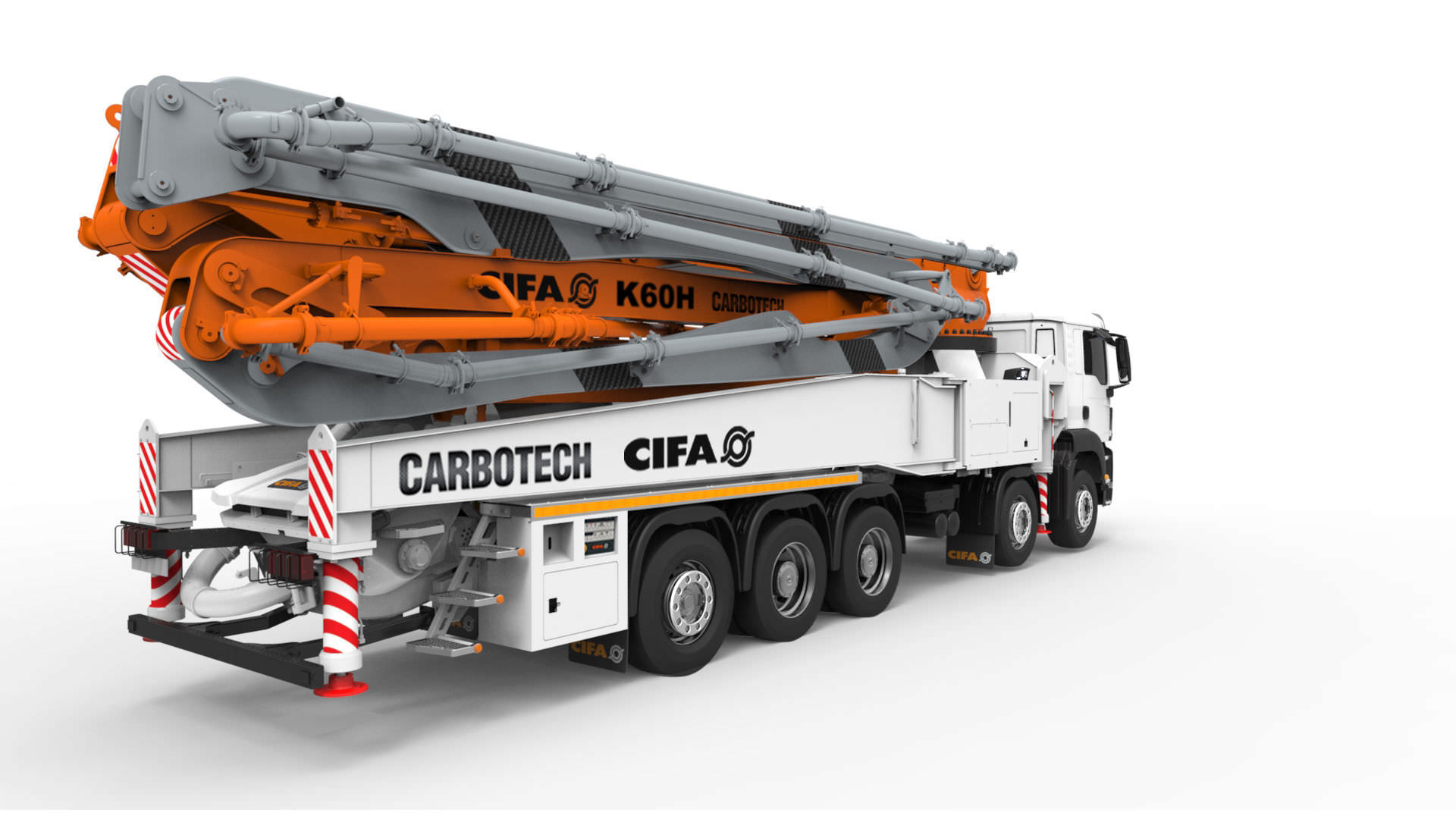 CIFA Truck mounted pumps are available with booms ranging from 20m up to 80m so it's possible to conveniently use small machines for indoor works such as mat slab pours even with low ceilings of just 4m, while with larger machines it's possible to reach high rise buildings up to 20 levels. More flexibility can even be achieved using flexible hoses to cover horizontal distances eve in the range of 100m.
Lays concrete at inaccessible sites easily: Concrete pumps are becoming more popular and convenient in Africa than the old mix and pour methods. This is because the boom arms can actually reach over the top of structures to place the concrete in locations where other types of equipment can't reach. Thus, concrete pumps ensure that the concrete is placed easily at inaccessible sites. So, whether you want to pour concrete on top of a high rise building or in a foundation slab, concrete pumps can deliver concrete mix to almost any area without leaving spills and lumps on the way.
4. Increases pouring accuracy: For complex locations such as high-rise buildings or insulated concrete form walls, concrete pumps can increase pouring accuracy. This accurate concrete pumping can effectively result in little or zero material wastage.
"With truck-mounted concrete pumps, concrete can be poured safely, quickly and efficiently at construction sites all over the world. Within a very short time, a truck-mounted concrete pump can be set up and immediately start pumping. This applies to almost all types of construction sites, even for smaller construction sites, where only a few truck-mixer loads are required," said Jost Amersdorffer, Director, Authorised Officer Division Manager Sales & Service for SCHWING-Stetter. Besides, cleaning of a SCHWING truck-mounted concrete pump is completed within 15 minutes thanks to the intelligent construction of the ROCK concrete valve and the concrete pump is ready for the next job.
Leads to less water consumption: Usage of concrete pump leads to less requirement of water as compared to other concrete pouring techniques. Thus, when the concrete is placed, it does not shrink and crack at all and this maintains its strength.
6. No affect of weather conditions: Last but not the least, with concrete pumps, concrete placing is not at all affected by weather conditions.
Concrete pumps new technologies
There are new technologies in the market, as in with the truck mounted concrete pump it has an option of wireless remote control with which the operator can operate the machine within the radius range. This is according to Chandresh Sodha.
CIFA enhances its' Smartronic machine management system to provide the operators with detailed diagnostics and offers even composite materials for the boom in its CARBOTECH line.
The technically limited mobility of a boom element driven by a hydraulic cylinder lifts the new innovative DirectDrive from SCHWING. Instead of the hydraulic cylinder, a hydraulic motor sits directly between the boom elements, thus enabling opening angles of over 330 °. The last mast element is even 360 ° endlessly rotatable. Another technical innovation is the hydraulic switching function SmartSwitch for stationary concrete pumps from SCHWING. This product is suitable for projects such as bridge pillars or high-rise buildings.
PULSAR system exclusively produced from MECBO. PULSAR is inside a steel body, oil bath, completely insulated from the concrete passage. The swinging "S" valve rotation is obtained by a constant and tangential movement, it avoids gasps and the pressure changeability, it erases the known defaults of the exchange jackets by the lever system, reduces the gasps in the boom and allows the regular pumping of the most pump able concretes variety, both normal and light.
Project site obstacles

According to SCHWING-Stetter, lack of well-trained operators in Africa impedes growth in the concrete industry. It is therefore, particularly important that the technical complexity of the machines used is not too high and maintenance can be carried out quickly and easily. One example of this is the SCHWING hydraulic system, which is used worldwide in all SCHWING truck-mounted concrete pumps and stationary pumps.  Switching in the SCHWING hydraulic system is controlled purely hydraulically, unlike the systems of other manufacturers. Compared to an electronic control, troubleshooting is much easier and in many cases significantly faster.
Enrich Equipment Ltd views Africa site obstacles as to lack of Knowledge, given that, the people are still behind the old techniques of working with the man power and with the machines which has a old technology which requires a lot of man power as well as lot of cost
"There is a lot of work to let the contractors know about the truck pumps features, safety , value for money, instead of using old ways to pour concrete. We have also to mention financial issues in some countries, that is why we often cooperate with credit insurance companies to ease the sales," said Adalberto Marcello, Sales training & documentation at CIFA S.p.A.
"However, communication towards invest with local distributors, seminars, local exhibitions to promote modern machinery and modern ways of working in the benefit of productivity and working safety can be done to overcome these challenges," he added.
Nonetheless, according to Chandresh Sodha arrangements can be done for seminars and training classes to spread the knowledge of the new technologies and explain the benefits of the machines and how the new technology is useful for them.
Africa concrete pumps tomorrow

In the construction and modernization of residential buildings, bridges, sewage treatment plants, traffic routes and office real estate, truck-mounted concrete pumps are already being used on a large scale worldwide.
According to CIFA, Africa is always the NEW last virgin market with a lot of opportunities. Definitively the easy usage and increase of actual local costs, will open the market to truck-mounted pumps, this boost by the big players willing to invest in infrastructure, civil buildings and tourism in Africa.
Enrich Equipment Ltd views Africa future for truck mounted concrete pumps as good and that people will come to know the benefits of the truck mounted concrete pumps and they will surely purchase as it makes the work very fast and easier for the contractors.